SPAM Filters is a new name for the SPAM control application and you can use it from your cPanel. This application was previously known as Apache Spam Assassin in earlier versions of cPanel and is an excellent spam control tool. We recommend that you activate SPAM Filters immediately after you first access cPanel.

Activate and Deactivate SPAM Filters in cPanel:

To turn on SPAM Filters, you need to log in first to your cPanel.

Once you are in cPanel, start typing "spam" in the search box and select the SPAM Filters from the search results:





To turn on SPAM Filters, just click on Process New Emails and Mark them as Spam. From that moment on, all email traffic will go through the filters so SPAM will be automatically detected by the score you specify.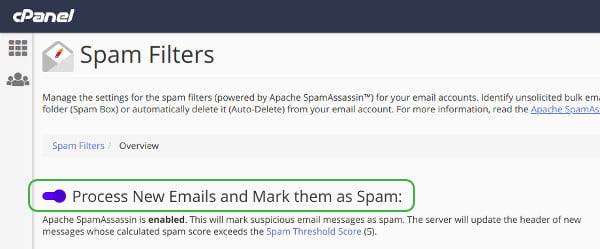 By default, filters are set to Spam Threshold Score (5). Score 5 will indicate an obvious SPAM. Lower rating scores (1,2,3,4) are much more restrictive, while high rating scores (6,7,8,9,10) are less sensitive to SPAM.

How to change the Spam Threshold Score?

You need to open the Spam Filters application and click on Spam Threshold Score (5). In the next page, you can choose a different rating. After selecting a new rating, you will also need to click the Update Scoring Options button: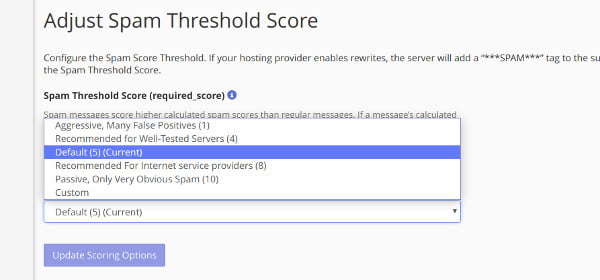 Automatically delete SPAM mails

To have SPAM mail deleted automatically, you can enable the Automatically Delete New Spam (Auto-Delete) option. All mail that does not meet the filters and is described as SPAM will be deleted automatically. This may be bad because it may happen that valid mail go to SPAM due to poorly written e-mail (for example, the sender writes email with all capital letters, writes a lot of links or repeats the tags $$$$$$$ and so on) so use this option carefully.

To turn on automatic deletion of SPAM messages, click the button in front of Automatically Delete New Spam (Auto-Delete):



 

Right below this option, you also have the option to further set up automatic deletion by clicking Configure Auto-Delete Settings. Here's the Auto-Delete Threshold Score option and applies only to messages that will be deleted and you can not set a lower score than the one you defined in the Spam Threshold Score. Please enter a rating here based on which SPAM will be deleted.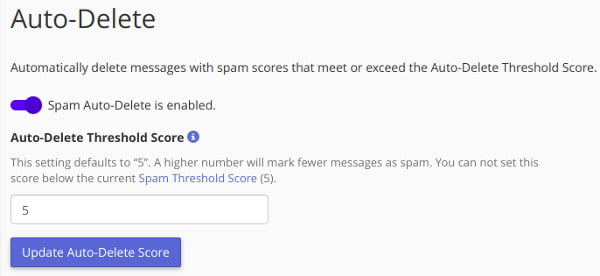 When you place a score that suits you, click on Update Auto-Delete Score.


---
For older cPanel versions 
Apache SpamAssassin

SpamAssassin is an anti-spam tool which works for all of the emails on your account. It marks spams so it is easy to notice. You can even configure SpamAssassin to automatically delete emails marked as spam. AdriaHost recommends activating SpamAssassin as soon as you create an email account or log in for the first time.


To enable or disable SpamAssassin:
Log into cPanel.
In the Mail section, click the SpamAssassin icon.
In the gray box, click Enable SpamAssassin to enable; or click Disable SpamAssassin to disable.
Depending on the option you selected, you will receive a confirmation message on the next page stating that SpamAssassin was either enabled or disabled.
Spam Score Limit
SpamAssassin screens each incoming email and assigns a score to the email based on its spam characteristics. By default, SpamAssassin considers messages with a score of 5 to be spam; however, you can adjust the spam score limit according to your preference. Simply select the desired spam score limit from the Score drop-down menu in the Filterssection. The lower the score, the more stringent the filter will be.
0 means everything incoming will be marked as spam
5 is the default setting
10 means nothing incoming will be marked as spam