Plaćanje karticama preko
PayPala
radi se dodavanjem vaše kartice na PayPal odakle PayPal povlači potrebna sredstva. 
Za ovo plaćanje
potrebno je da imate PayPal nalog
ili da se ulogujete na postojeći PayPal nalog tokom procesa plaćanja kada to bude zatraženo. 
Ukoliko nemate PayPal nalog možete ga otvoriti po uputstvu:
https://www.paypal.com/in/smarthelp/article/how-do-i-open-a-paypal-account-faq963


Za dodavanje i plaćanje karticom preko PayPal naloga uradite sledeće: 
Korak 1:
Idite na klijentski nalog i potražite neplaćeni predračun ili jednostavno kliknite na link koji ste dobili u mejlu od nas. 
U polju
Način plaćanja
odaberite
2CheckOut (credit card)
, a zatim kliknite na dugme
Kliknite ovde za plaćanje
.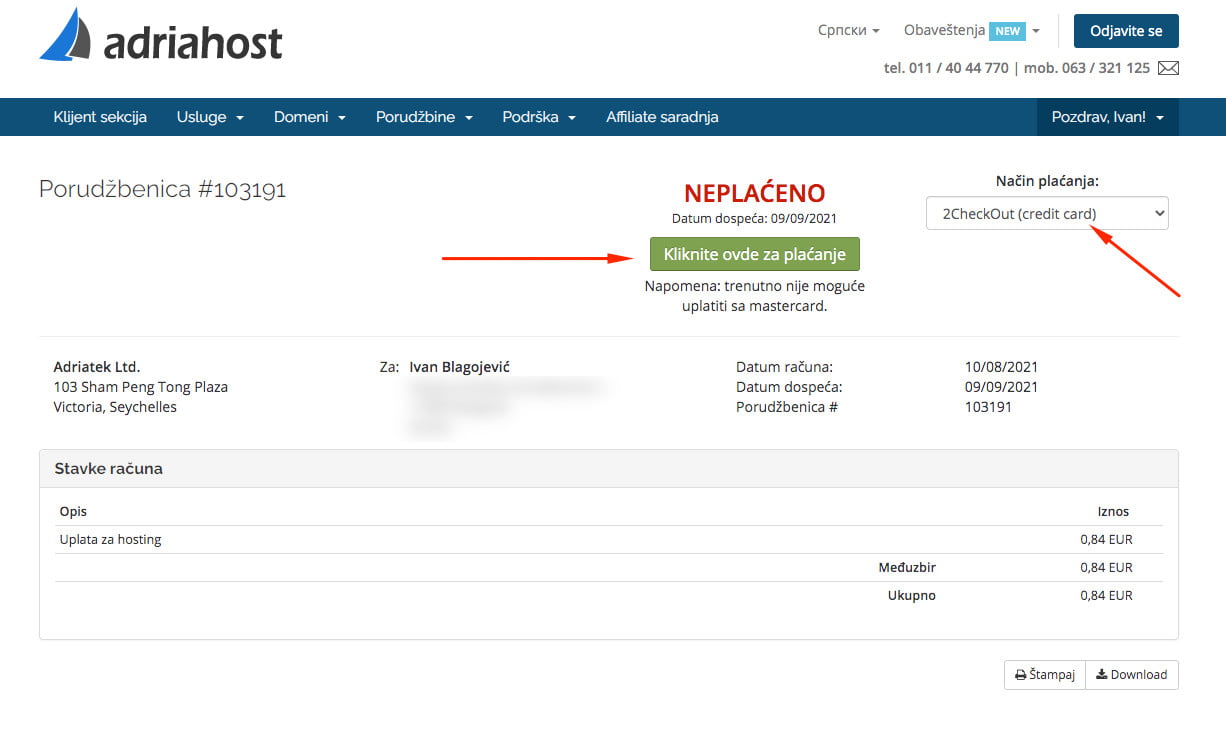 Korak 2:
Kliknite na dugme
Continue to Billing Information
: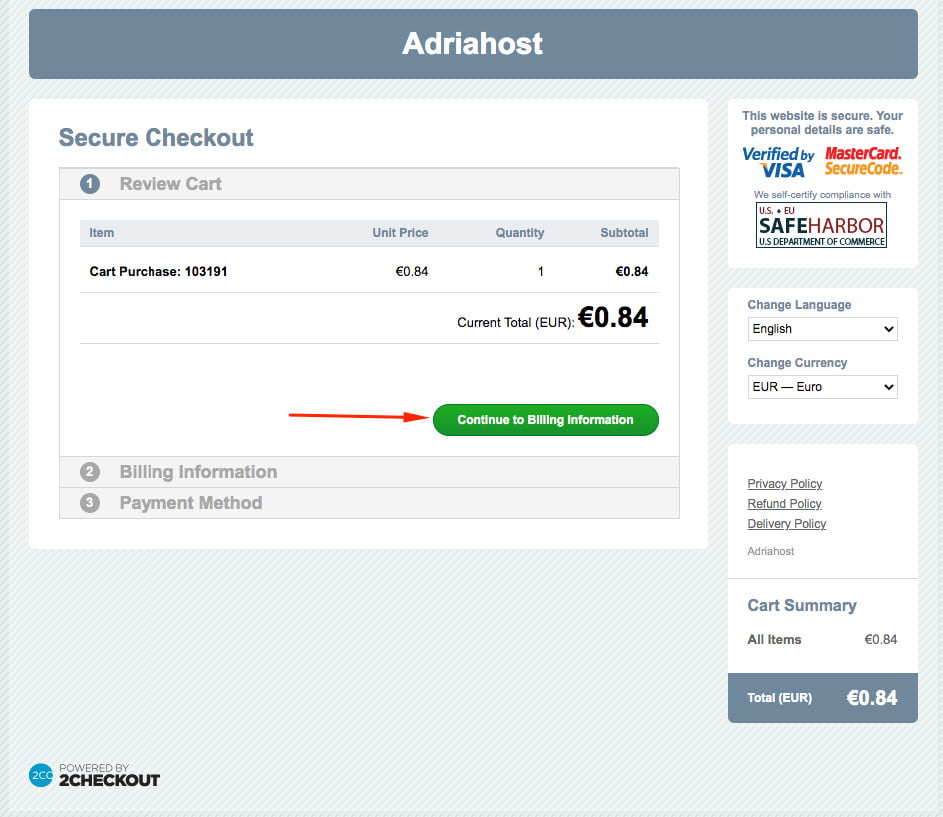 Popunite sve podatke koji se tiču plaćanja, a zatim kliknite na dugme
Continue to Payment Method
: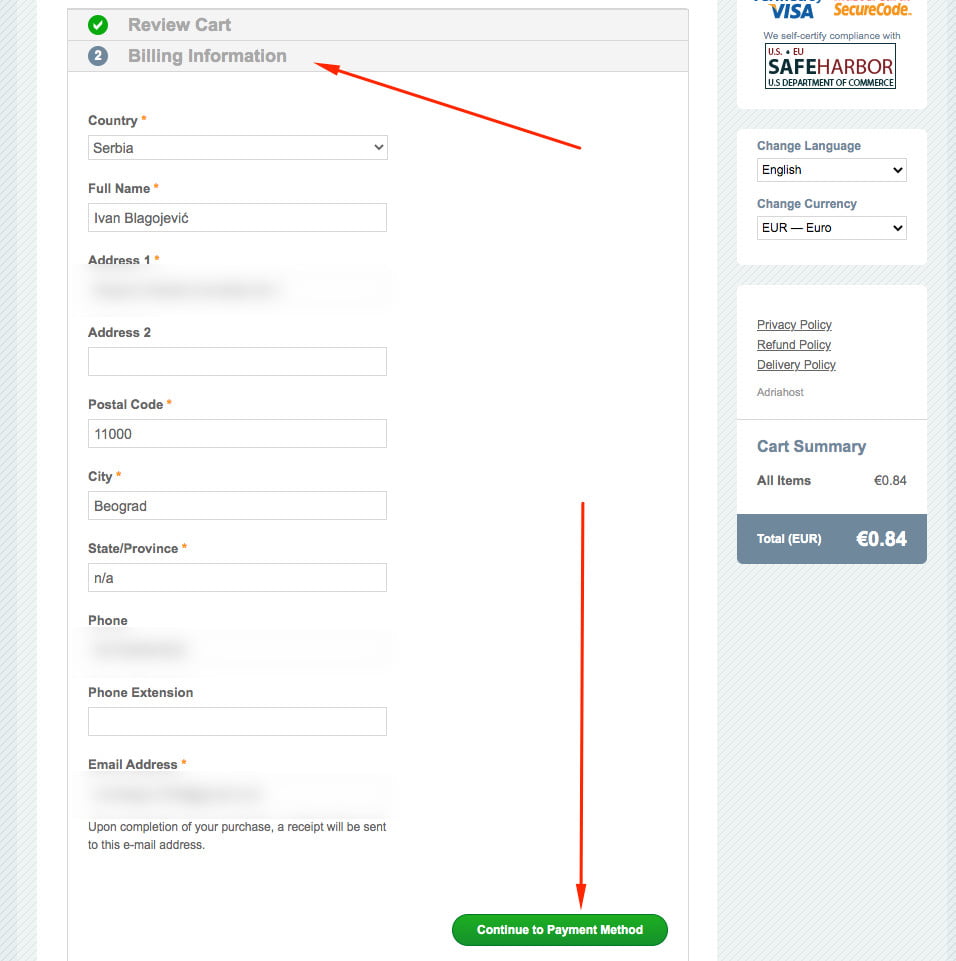 Kliknite sada na dugme
Continue to PayPal
: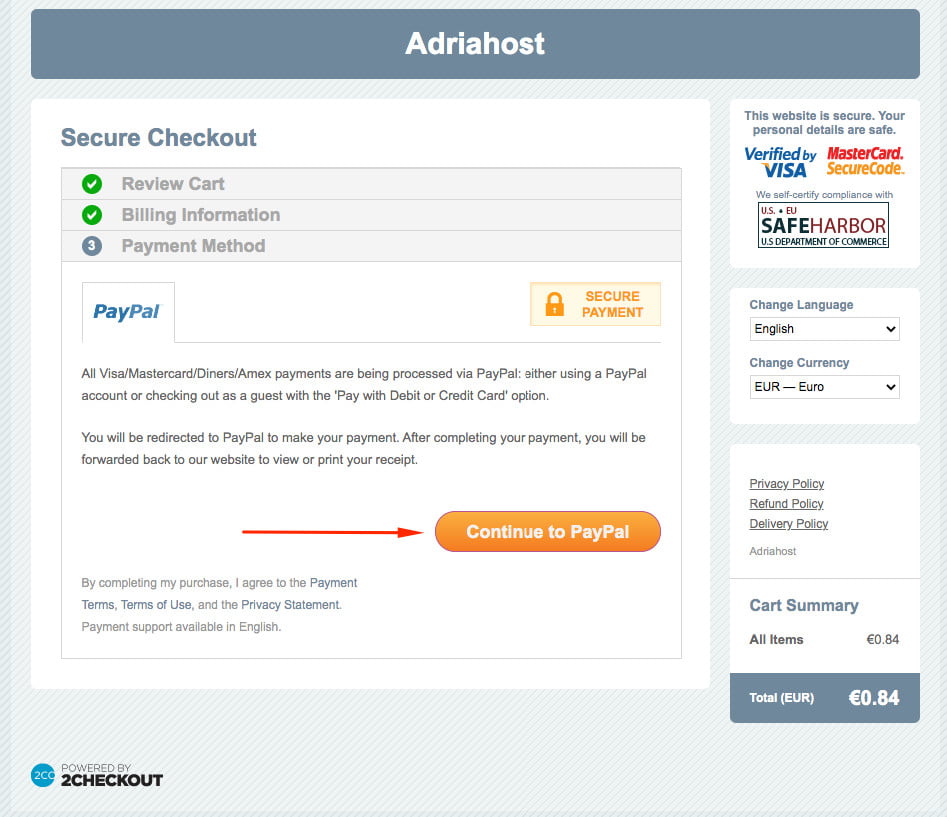 Korak 3:
Sada je potrebno da se ulogujete na PayPal nalog pa u ovom koraku upišite email adresu sa kojom ste otvorili PayPal nalog ranije i kliknite na dugme
Next
. Ako nemate PayPal nalog biće potrebno da ga otvorite.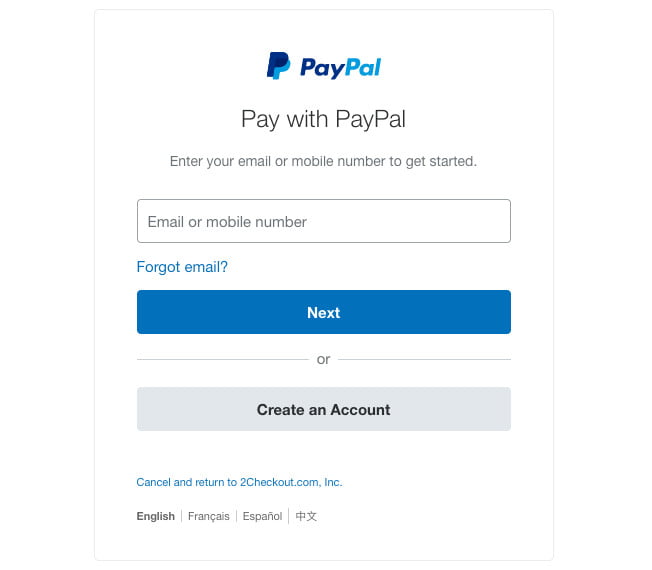 Unesite i lozinku, pa neko toga kliknite na dugme
Log In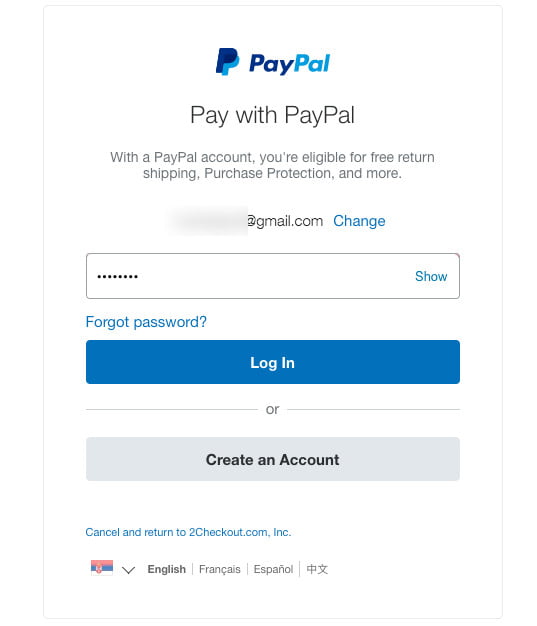 Ukoliko se pojavi ovakva verifikacija ispoštujte velika i mala slova i sve lepo upišite u polje koje je predviđeno za to: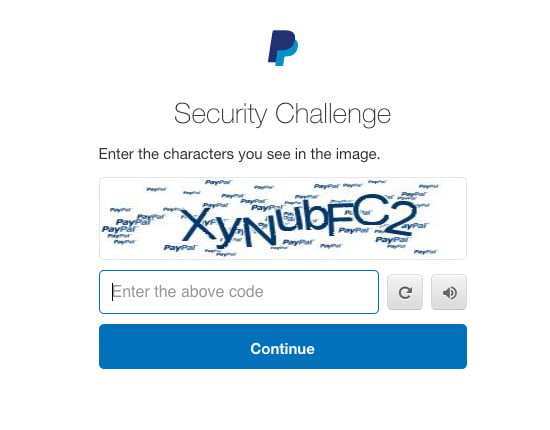 Korak 4:
Ako na PayPal nalogu već imate dodatu karticu, samo kliknite na dugme
Continue
, ali ukoliko kartica nije dodata potrebno da kliknete na opciju
Add debit or credit card
i prođete jednostavnu proceduru za dodavanje kartice.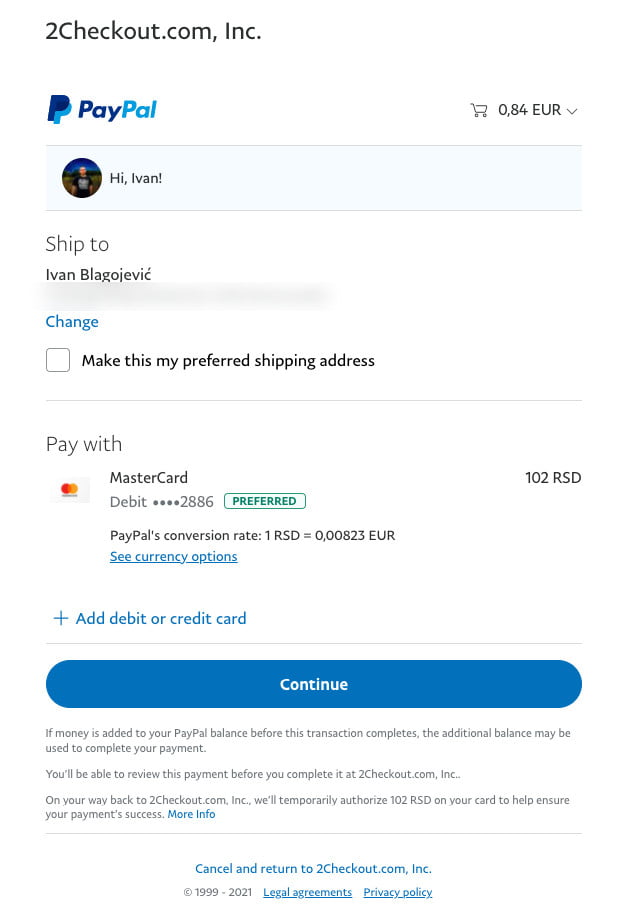 Sačekajte verifikaciju: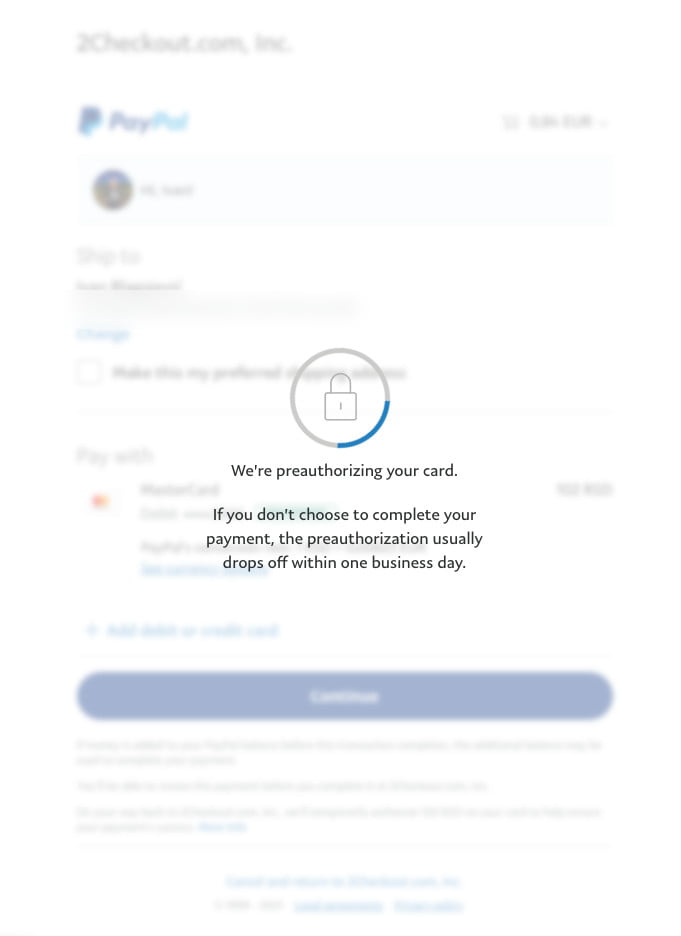 Vrlo brzo nakon toga plaćanje će biti odobreno i videćete ovakav ekran gde je potrebno još samo da kliknete na dugme
Finalize Your Order
i sve je završeno.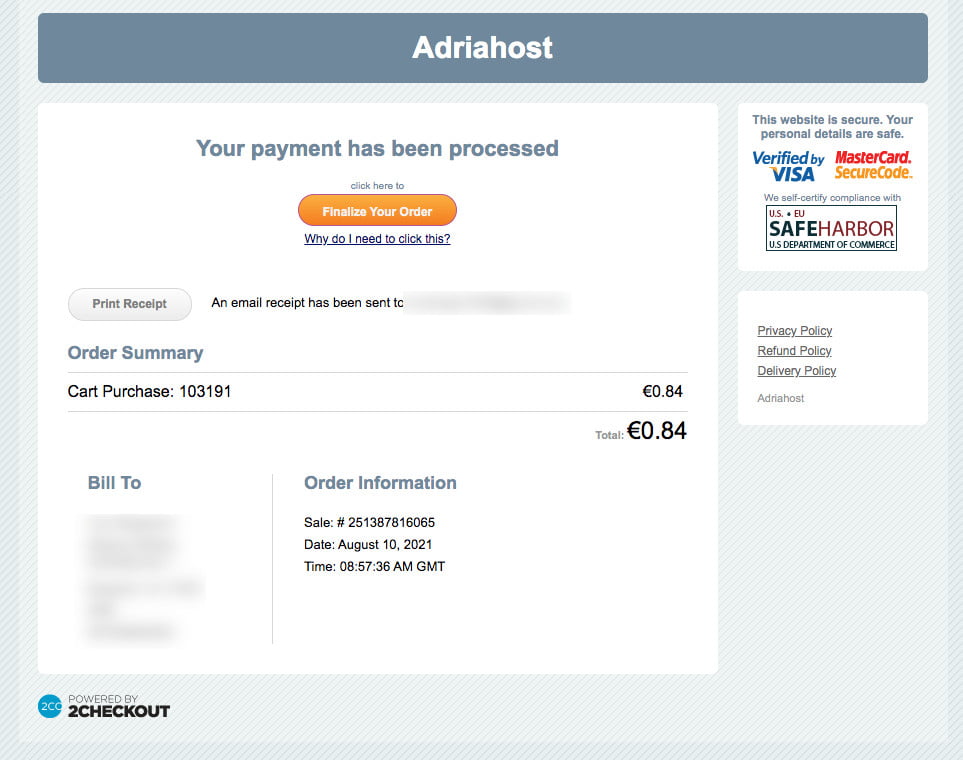 U slučaju da imate problema sa plaćanjem molimo da nas kontaktirate na jedan od sledećih načina: 
-
Otvorite tike za tehničku podršku
-
Pišite nam direktno sa kontakt forme ovde