Creating an addon domain is not possible if DNS propagation is not complete for the site you want to add. You need the Addon Domain option if you want to add a new domain to your hosting and set up a new site on that domain next to your existing other, separate site. 

Notes: To add an Addon domain to cPanel, that domain must exist, so the domain should be registered and routed to your hosting with the correct NS parameters. If your domain is just registered and routed, it often takes up to 24 hours for the routing to propagate online (during this time you will get an error when trying to add an addon domain). If you have forgotten the NS parameters, please contact our technical support and they will help you further.


To create an addon domain, log in to your cPanel and click on "Addon Domains": 



The following is required to add an addon domain:

New Domain Name: enter your full domain name here (no www, no https, only domain name)
Subdomain: will be added automatically, you can change it if you need some custom modification
Document Root: this is the site file  that will work on the domain. You can let it be generated automatically, or you can type it yourself if the site is already set up in one of the folders on your hosting site.
To add a domain you need to click the
Add Domain
button: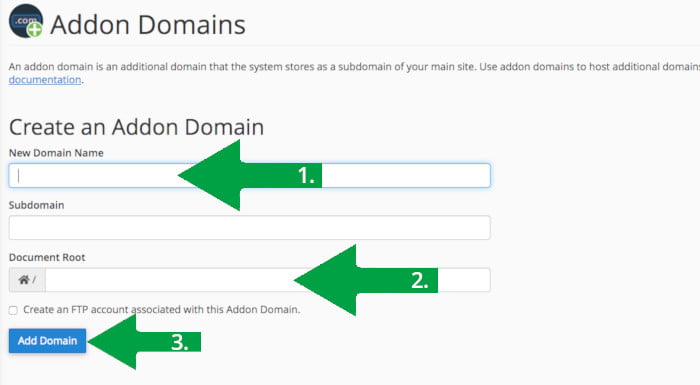 When a domain is added, it will be visible in the Addon domain table. You can subsequently change the Document Root path, remove the domain when you no longer need it, or manage domain redirection.